Treat yourself to a casually elegant evening of fine cuisine in a cozy and comfortable setting.
You'll enjoy the simple and sophisticated flair of this renovated Early 1900's Fredericksburg home. And a dining experience that's sure to go down in your own history book. Welcome.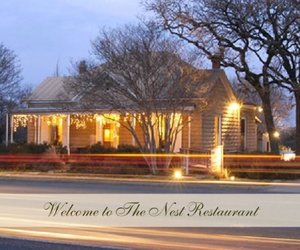 At The Nest Restaurant you will enjoy world-class cuisine that includes fresh seafood, steaks and a variety of succulent delicacies - all prepared with only the finest and freshest ingredients.
The Nest boldly embodies the spirit of New American cuisine. Timeless flavors and the freshest of ingredients mesh with an innovative and fun approach to create a dining experience like no other. Enjoy!
Hours
Serving dinner starting at 5:30 p.m. Thursdays through Monday. Please
call
to confirm or reserve.
Feel free to inquire regarding seasonal specials, availability, and wine offerings. The team work diligently to craft ideal wine pairings and the menu evolves according to the best local produce available. Patrons of the restaurant can always expect a culinary adventure at The Nest.
Frequently Asked Questions
What kind of cuisine does The Nest offer?
Chef John Wilkinson graduated from the Culinary Institute of America in New York City. Afterwards, he honed his craft working in restaurants across Europe. His creations are grounded in American and French traditions.
What are your most popular dishes and ingredients?
The Nest menu evolves according to the availability of deliciously fresh in-season ingredients. There is something for everyone on an entree menu featuring seafood, chicken, lamb, and steak.
What features on your wine list?
The Nest stocks a wide variety of curated wines from California, Texas, France, and Italy. In particular, wines from the Napa Valley feature heavily.
Does The Nest offer takeout and delivery?
At times, yes! The best course of action is to reach out to the restaurant with your inquiry as dishes have varied suitability for off-premises dining.
What features on The Nest's dessert menu?
Mexican chocolate ice cream, caramel flan, chocolate walnut tart, profiteroles, and various other options.
Does The Nest accept reservations?
Absolutely. The best way to secure a table is to get in touch directly as reservations are not currently available through third-party providers.
How can I find the restaurant?
The Nest is located just off Texas's Route 87, one of the primary north-south roads linking Fredericksburg with the rest of the state.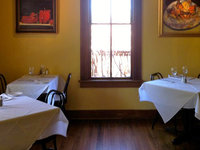 After graduating from the Culinary Institute of America in Hyde Park, New York, Chef-owner John Wilkinson, traveled to Europe to add to his culinary expertise. After broadening his experiences in various hotels and restaurants, he went to work as Banquet Chef at the Ritz Carlton in Aspen, Colorado. In 1995 he moved to Fredericksburg to open The Nest.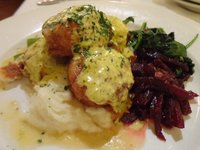 Elle Decor - "A quieter movie-star hangout in a cozy turn-of-the-century Hill Country rock house." Texas Monthly - "The Nest tops the list of the five best new places in town. The Nest isn't just sophisticated for Fredericksburg; it's sophisticated, period." The Nest has received glowing acclaim from many more publications including the San Antonio Express and Houston Chronicle.